Erchie
It is a small Saracen village, a Greek colony since the fourth century, halfway between Amalfi and Salerno. In the Valley of San Nicola you can see the seashore of Erchie. The village is a UNESCO World Heritage Site for its beautiful landscapes and for the historical and artistic value of some churches and ruins. The beach is preserved, suitable for children and non-accessible to motor vehicles and motorcycles.
Maiori Beach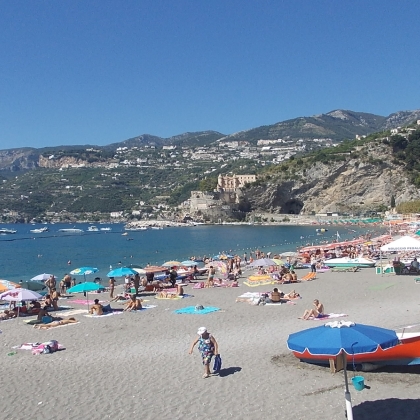 The beach is the widest on the Amalfi Coast and due to its clear waters is one of the most appreciated by tourists. It has white sand, beach facilities, cafes and restaurants so it is the ideal place for families. Those interested can make boat excursions to discover the Grotta Pandora (Pandora Grotto) or the Grotta Sulfurea (Sulfurea Grotto) or easily reach the other beaches in Maiori, Capo d'Orso and Cala Bellavia, among the most prestigious places on the Amalfi Coast. It is possible to rent jet skis and pedalos.
Minori Beach
Thin sandy beach, 250 meter long, it is sunny the entire day. There are three private bathing establishments and two free beaches. In the historical center, we suggest a short stop in the famous pastry shop Sal De Riso, specializing in delicious local desserts with lemon cream or in one of the small cafes where you can taste the famous limoncello, a liquor made with lemons grown on the typical steep terracing of the coast.