Marina del Cantone
A wild and windy corner in Nerano, which can be reached following a winding road lined with rocks and vegetation that leads to the sea. Picturesque restaurants built on stilts offer homemade pasta, like spaghetti with zucchini and fresh fish. There are several paying parking areas nearby. It is also possible to play water sports like canoeing and windsurfing.
Recommone
Between Marina del Cantone and the Crapolla Fjord there is the pebbly beach called Recommone. Tourist destination for people from all over the world who are willing to walk for about two hours along a panoramic route on the Gulf of Salerno, rewarded by the great views and the amazing landscape. The beach is equipped with bathing establishments and an important restaurant on the sea "La Conca del Sogno."
Ieranto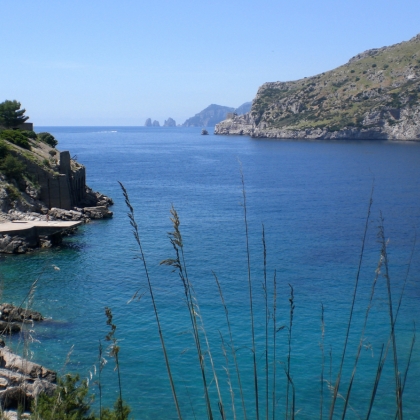 It is one of the most amazing beaches in the Sorrento Peninsula. It consists of sand, white pebbles, varied wildlife and native flora, a heavenly blue sea and an amazing view on the Punta Campanella and the Capri Faraglioni Rocks. There are not private bathing establishments. It can be reached by boat with one of the many tours or by land through a path in the Mediterranean Scrub, shadowed by the San Costanzo Mount.