Where to Stay:
Cetara and Vietri sul Mare
We have no places where to stay to suggest to you in Cetara and Vietri sul Mare.
In the nearby of Cetara and Vietri sul Mare we suggest:
Sorrento
Palazzo Starace in the center of Sorrento is the dream location for a stay in Peninsula
+39 081 807 26 33
+39 366 95 05 377
Vico Equense
In the centre of Vico Equense, a few km from Sorrento and Amalfi Coast. Refined interiors, large, spacious and bright rooms.
+39 081 801 60 04
Sorrento
Al Centro B&B, it is the ideal choice for your stay in Sorrento, at few steps of the city's main attractions.
+39 081 807 42 30
+39 349 05 64 709
Massa Lubrense
Guest house in hilly panoramic position, located in the village of Torca. Bright rooms with rustic decor, outdoor swimming pool.
+39 081 808 52 03
+39 333 384 70 36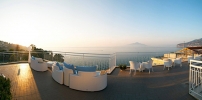 Sorrento
4-star hotel with sea view located in the historic center of Sorrento. It offers comfy accommodations to guarantee a memorable holiday.
+39 081 878 21 62
Sorrento
The ideal place to spend an unforgettable holiday in Sorrento, enjoying the beauties and pleasures of the land of sirens.
+39 081 877 23 22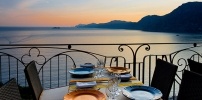 Praiano and Conca de Marini
The Tramonto d'Oro located in Praiano, give you a breath-view and an excellent service for an holiday a thousand and one nights.
+39 089 874955
Sorrento
Modern bed and breakfast located in the center of Sorrento, in an enchanting position overlooking the sea.
+39 081 192 43 480