Le Camere del Tappezziere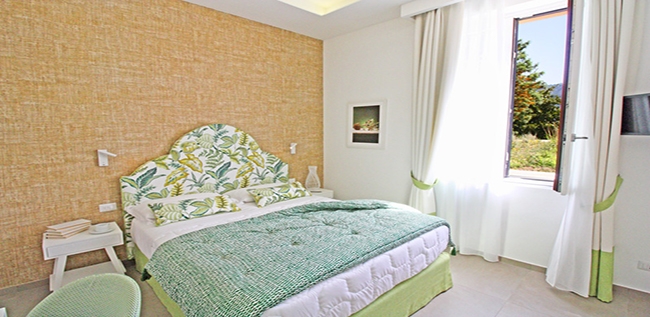 Le Camere del tappezziere is a B&B located in the heart of the Sorrento Coast where the tradition of hospitality of these places meets the passion for upholstery.
Each room available is a clear and distinct expression of a unique style of upholstery with fabrics of the highest quality that, combined with the essential lines of the furnishings, create a functional and contemporary setting.


Thanks to a perfect combination of spatial architecture and design, the rooms offer all the facilities a modern traveller needs and one of them also boasts a small private balcony.


The B&B is located just a few minutes' drive from Sorrento, in a strategic position close to the Circumvesuviana train station and the bus stop, making it easy to travel by public transport to the most interesting places of the area such as the Amalfi Coast, Pompeii, Herculaneum and the islands of Capri and Ischia.
Le Camere del Tappezziere
Via S. Sergio, 27, 80065 Sant'Agnello NA
Le Camere del Tappezziere
Bed and Breakfast
Via S. Sergio, 27, 80065 Sant'Agnello NA
+39 081 878 78 95
Contact
Le Camere del Tappezziere
* Campo Richiesto
|
Informativa Privacy
Our Suggests

Massa Lubrense
Da Michele is a restaurant and pizzeria located by the sea in Massa Lubrense that offers land and seafood specialties and traditional pizza
+39 081 8789871
+39 3388720672

Sorrento
Seduction Vacanze is a tour operator based in Sorrento specialised in private tours of Campania, group tours in Italy and transfers
+39 081 807 46 07

Vico Equense
Farm-restaurant in Vico Equense, on the countryside of Sorrento Coast. Comfortable rooms, swimming pool, and typical products
+39 081 802 41 94
+39 338 706 07 04
Featured Accommodation
Massa Lubrense
Casa del Saraceno is the perfect place to enjoy a stay in full tranquillity, with a panoramic view and all the necessary comforts.
+39 331 5213021
Sorrento
The Dreaming Sorrento Suites are the perfect solution for your relaxing stay in the heart of the Sorrento Peninsula.
+39 081 878 56 80
+39 328 704 49 59 / +3...
Sorrento
The Hotel Leone is a recently built costruction, located in a strategical position in Sorrento.
+39 081 878 28 29
+39 338 29 16 263
Tours and Transfer

Sorrento
Choose to visit the ruins of Pompeii with Tempio Travel agency, a tour guide specialized and competent.
+39 081 8782103
+39 338 659 78 84

Sorrento
Tours among Campania Region tourist attractions. Transfers to/from ports, airports, hotels, stations in Naples, Positano, Rome, Florence
+39 333 734 8008
Sorrento
Alca Excursions offers transfers from and to ports, stations and airports and tours of Naples, Sorrento, Pompeii and the Amalfi Coast
+39 333 561 99 00