Le Camere del Tappezziere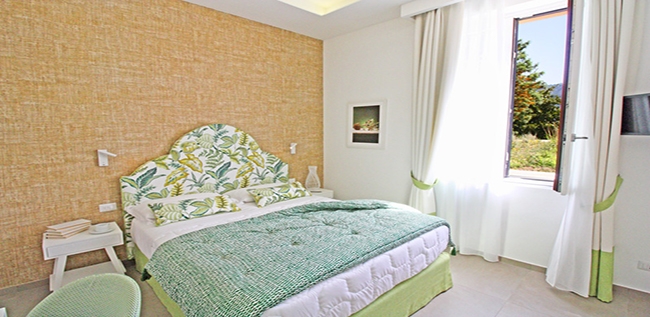 Le Camere del tappezziere is a B&B located in the heart of the Sorrento Coast where the tradition of hospitality of these places meets the passion for upholstery.
Each room available is a clear and distinct expression of a unique style of upholstery with fabrics of the highest quality that, combined with the essential lines of the furnishings, create a functional and contemporary setting.


Thanks to a perfect combination of spatial architecture and design, the rooms offer all the facilities a modern traveller needs and one of them also boasts a small private balcony.


The B&B is located just a few minutes' drive from Sorrento, in a strategic position close to the Circumvesuviana train station and the bus stop, making it easy to travel by public transport to the most interesting places of the area such as the Amalfi Coast, Pompeii, Herculaneum and the islands of Capri and Ischia.
Le Camere del Tappezziere
Via S. Sergio, 27, 80065 Sant'Agnello NA
Le Camere del Tappezziere
Bed and Breakfast
Via S. Sergio, 27, 80065 Sant'Agnello NA
+39 081 878 78 95
Contact
Le Camere del Tappezziere
* Campo Richiesto
|
Informativa Privacy
Our Suggests

Positano
Le Tre Sorelle Wine Room is a prestigious online wine shop where you can buy the wines of the national and international famous wineries.
+39 089 81 16 35
+39 339 56 48 604

Positano
My Positano Private Car realizes rental services with driver for private tours, transfers and pick up.
+39 333 973 43 06

Capri
Anna's wool is a shop and e-commerce of handmade tailored products "made in Capri" in merino wool and cashmere like ponchos and stoles
+39 348 1184954
Featured Accommodation

Sorrento
Luxury and elegant villa with panoramic sea view, pool and many premium services for an unforgettable stay.
+39 081 878 24 68

Sorrento
Bed and breakfast on the hills of Sorrento with sea view rooms, panoramic terrace,jacuzzi, solarium and much more
+39 081 808 01 23

Sorrento
La casa dell'orologio is a newly renovated hotel in the heart of the city center
+39 339 718 6457
Tours and Transfer
Sorrento
Leader company in the organization of tours and excursions in Sorrento and Amalfi Coast and other places, with English speaking drivers.
+39 335 1562364

Sorrento
Shuttle bus services of high quality in Naples, Sorrento and Amalfi Coast.
+39 081 878 49 21

Sorrento
Giada Tours offers tours in Campania organized in every detail
+39 334 1663044