Le Camere del Tappezziere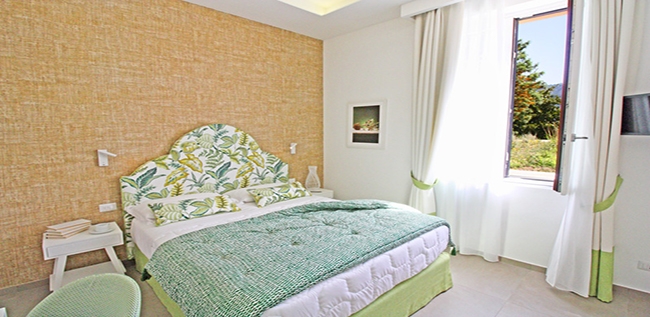 Le Camere del tappezziere is a B&B located in the heart of the Sorrento Coast where the tradition of hospitality of these places meets the passion for upholstery.
Each room available is a clear and distinct expression of a unique style of upholstery with fabrics of the highest quality that, combined with the essential lines of the furnishings, create a functional and contemporary setting.


Thanks to a perfect combination of spatial architecture and design, the rooms offer all the facilities a modern traveller needs and one of them also boasts a small private balcony.


The B&B is located just a few minutes' drive from Sorrento, in a strategic position close to the Circumvesuviana train station and the bus stop, making it easy to travel by public transport to the most interesting places of the area such as the Amalfi Coast, Pompeii, Herculaneum and the islands of Capri and Ischia.
Le Camere del Tappezziere
Via S. Sergio, 27, 80065 Sant'Agnello NA
Le Camere del Tappezziere
Bed and Breakfast
Via S. Sergio, 27, 80065 Sant'Agnello NA
+39 081 878 78 95
Contact
Le Camere del Tappezziere
* Campo Richiesto
|
Informativa Privacy
Our Suggests

Sorrento
Linda will guide you to the ancient archaeological sites of Pompeii and Herculaneum.
+39 338 440 43 01

Positano
Franco Trekking Positano is an authorized guide who organize hikes, treks and food tasting trekking in Sorrento and Amalfi Coast
+39 366 337 93 52

Sorrento
Excursions, transfers and tours for the cities of Italy to competitive costs indeed.
+39 338 597 26 76
Featured Accommodation
Nerano and Sant'Agata
Hotel Montana is a 4-star hotel located in the Sorrento Coast in a panoramic position where you can enjoy an exceptional sea view
+390818780126

Sorrento
Exclusive selection of high quality of luxury villas, villas, apartments, houses and residence in Sorrento, Capri and Amalfi Coast.
+39 081 877 29 21
Maiori and Minori
Hotel Villa Pandora, overlooking the sea, is the ideal solution for a romantic getaway between the natural landscapes of the Amalfi Coast.
+39 089 877966
Tours and Transfer

Sorrento
Shuttle bus services of high quality in Naples, Sorrento and Amalfi Coast.
+39 081 878 49 21
Meta di Sorrento
Private day tours and excursions from ports to the beauties of Sorrento, Pompeii, Herculaneum, Naples, Positano and the Amalfi Coast
+39 3343059071

Massa Lubrense
Italy limousine companies offers a real chauffeur service, all across this wonderful country
+39 081 808 0457
+39 338 96 81 866