Maison Fernanda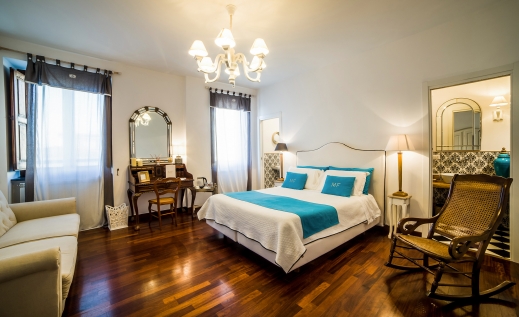 Maison Fernanda is a relais located in the wonderful village of Sant'Agata sui due Golfi, between the Sorrento and Amalfi coast. Maison Fernanda offers rooms with a unique sophisticated design and equipped with all services to make your stay extraordinary. Maison Fernanda provides its guests with a rich breakfast to be enjoyed in the garden or I your own room.
The relais has four rooms with cosy and refined interiors to give you a relaxing stay. All rooms have a private bathroom, a free Wi- Fi connection and a terrace where you can relax admiring the surrounding nature.
The Relais Maison Fernanda offers its guests cooking classes where they can have the chance to cook the local dishes with the Chef Fernanda D'Esposito, inside the beautiful kitchen decorated with the Vietri tiles. Maison Fernanda is surrounded by a garden where you can pick the products to use them to prepare healthy and tasty dishes.
Maison Fernanda
Via Termine 14 – 80061 Massa Lubrense loc. Sant'Agata sui Due Golfi (NA) - Italy
Maison Fernanda
Bed and Breakfast
Via Termine 14 – 80061 Massa Lubrense loc. Sant'Agata sui Due Golfi (NA) - Italy
+39 081 533 00 71
+39 333 114 22 18
Contact
Maison Fernanda
* Campo Richiesto
|
Informativa Privacy
Our Suggests

Sorrento
Basilico Italia is a pizza restaurant located in the center of Sorrento that offers tasty pizzas, land and sea specialties and much more.
+39 081 877 20 48
+39 336 475 791

Positano
Le Tre Sorelle Wine Room is a prestigious online wine shop where you can buy the wines of the national and international famous wineries.
+39 089 81 16 35
+39 339 56 48 604
Massa Lubrense
Beautiful and with an always elegant design, eco-sustainable and soy wax candles are created to fill the home with enveloping aromas
+39 081 808 1005
Featured Accommodation

Nerano and Sant'Agata
Mimì sul Mare offers 4 charming apartments, all with sea view.
+39 081 8081174
+39 334 2662669
Sorrento
Miramare Hotel, 4 star in Sorrento, is modern and elegant. It has rooms with sea view and esclusive comforts for a special stay.
+39 081 807 25 24
Sorrento
Agora Apartments offers 4 apartments for couples or families, in the center of Sorrento
+39 081 012 81 03
+39 333 653 35 89
Tours and Transfer

Sorrento
inserire in questo campo un piccolo riassunto del testo principale
+39 339 8245885
Sorrento
La MCR Travel Agency è un'agenzia di servizi specializzata nell'organizzazione di viaggi.
+39 081 807 22 23

Positano
Agency for private transfers, tours and excursions throughout Italy: Sorrento, Positano, Pompeii, Naples, Rome, Florence, Venice, Sicily.
+39 338 190 0236