Maison Fernanda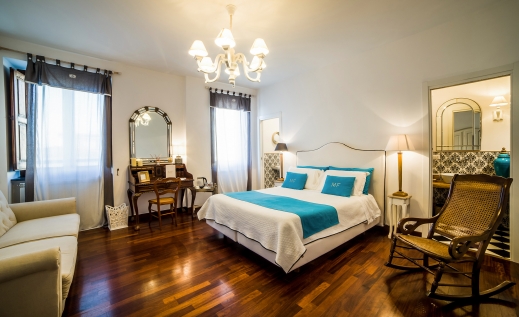 Maison Fernanda is a relais located in the wonderful village of Sant'Agata sui due Golfi, between the Sorrento and Amalfi coast. Maison Fernanda offers rooms with a unique sophisticated design and equipped with all services to make your stay extraordinary. Maison Fernanda provides its guests with a rich breakfast to be enjoyed in the garden or I your own room.
The relais has four rooms with cosy and refined interiors to give you a relaxing stay. All rooms have a private bathroom, a free Wi- Fi connection and a terrace where you can relax admiring the surrounding nature.
The Relais Maison Fernanda offers its guests cooking classes where they can have the chance to cook the local dishes with the Chef Fernanda D'Esposito, inside the beautiful kitchen decorated with the Vietri tiles. Maison Fernanda is surrounded by a garden where you can pick the products to use them to prepare healthy and tasty dishes.
Maison Fernanda
Via Termine 14 – 80061 Massa Lubrense loc. Sant'Agata sui Due Golfi (NA) - Italy
Maison Fernanda
Bed and Breakfast
Via Termine 14 – 80061 Massa Lubrense loc. Sant'Agata sui Due Golfi (NA) - Italy
+39 081 533 00 71
+39 333 114 22 18
Contact
Maison Fernanda
* Campo Richiesto
|
Informativa Privacy
Our Suggests
Sant'Agnello
The shipyard Maresca is located in the Gulf of Naples, it offers maintenance, overhaul and storage for all types of pleasure boats.
+39 347 858 3949

Sorrento
Limousine, van and mini van car service in Sorrento, Amalfi Coast, Naples, Pompeii, Ravello.
+39 081 807 24 99
Sorrento
The e-commerce P&A is specialized in antiques and jewellery online sales
Featured Accommodation
Sorrento
Villa Adriana is located a few minutes walk from the historical center of Sorrento, from the main local attractions and restaurants.
+39 371 457 35 86
Sorrento
The B&B Villa Concetta is a few minutes walking from Sorrento center, in panoramic position, is equipped with all the amenities.
+39 335 584 75 75

Sorrento
4-star hotel with sea view located in the historic center of Sorrento. It offers comfy accommodations to guarantee a memorable holiday.
+39 081 878 21 62
Tours and Transfer

Sorrento
Giada Tours offers tours in Campania organized in every detail
+39 334 1663044
Praiano and Conca de Marini
Italian Style Driver is a company specialized in the organization of transfers and tours in Sorrento and Amalfi Coast.
+39 366 116 55 77
Sorrento
Association of tourist guides authorized by the Campania region for transfer and tour to Sorrento, Pompeii, Capri, Positano, Naples and more
+39 081 878 30 61