Maison Fernanda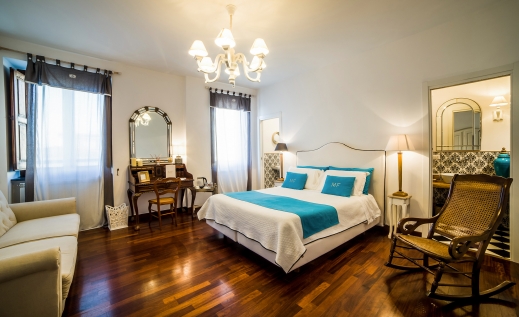 Maison Fernanda is a relais located in the wonderful village of Sant'Agata sui due Golfi, between the Sorrento and Amalfi coast. Maison Fernanda offers rooms with a unique sophisticated design and equipped with all services to make your stay extraordinary. Maison Fernanda provides its guests with a rich breakfast to be enjoyed in the garden or I your own room.
The relais has four rooms with cosy and refined interiors to give you a relaxing stay. All rooms have a private bathroom, a free Wi- Fi connection and a terrace where you can relax admiring the surrounding nature.
The Relais Maison Fernanda offers its guests cooking classes where they can have the chance to cook the local dishes with the Chef Fernanda D'Esposito, inside the beautiful kitchen decorated with the Vietri tiles. Maison Fernanda is surrounded by a garden where you can pick the products to use them to prepare healthy and tasty dishes.
Maison Fernanda
Via Termine 14 – 80061 Massa Lubrense loc. Sant'Agata sui Due Golfi (NA) - Italy
Maison Fernanda
Bed and Breakfast
Via Termine 14 – 80061 Massa Lubrense loc. Sant'Agata sui Due Golfi (NA) - Italy
+39 081 533 00 71
+39 333 114 22 18
Contact
Maison Fernanda
* Campo Richiesto
|
Informativa Privacy
Our Suggests

Positano
Agency for private transfers, tours and excursions throughout Italy: Sorrento, Positano, Pompeii, Naples, Rome, Florence, Venice, Sicily.
+39 338 190 0236

Positano
Transfers to / from major ports, airports, stations and hotels. Tours and excursions in Sorrento and Amalfi Coast, Pompeii, Naples and more
+39 371 3947481

Sorrento
The Restaurant Bar La Villa is the perfect place to enjoy a drink while admiring the scenic beauties of the Sorrento Peninsula
+39 081 807 4090
Featured Accommodation

Sorrento
Modern and comfortable rooms and apartments located in the green hills of Sorrento just a few km from the main local tourist attractions
+39 338 68 09 990

Sorrento
Modern and elegant hotel, surrounded by craft shops and typical shops, immersed in the colors and scents of the center of Sorrento.
+39 081 181 65 785
Sorrento
The Hotel Leone is a recently built costruction, located in a strategical position in Sorrento.
+39 081 878 28 29
+39 338 29 16 263
Tours and Transfer
Meta di Sorrento
Private day tours and excursions from ports to the beauties of Sorrento, Pompeii, Herculaneum, Naples, Positano and the Amalfi Coast
+39 3343059071
Positano
Excursions in Amalfi Coast, Pompei and Herculaneum. Wine and food tasting
+39 333 205 50 39

Sorrento
Naples Airport Transfers provides transfer services from and to Naples Airport, Train Station, Sorrento Peninsula and the Amalfi Coast.
+39 081 1885 6897