Maison Fernanda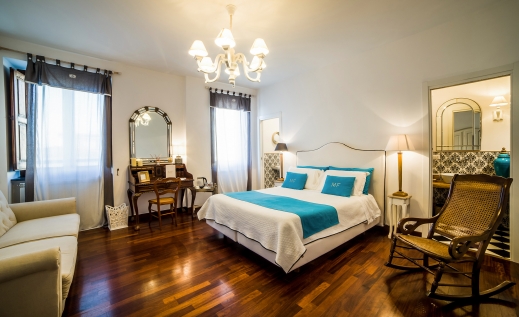 Maison Fernanda is a relais located in the wonderful village of Sant'Agata sui due Golfi, between the Sorrento and Amalfi coast. Maison Fernanda offers rooms with a unique sophisticated design and equipped with all services to make your stay extraordinary. Maison Fernanda provides its guests with a rich breakfast to be enjoyed in the garden or I your own room.
The relais has four rooms with cosy and refined interiors to give you a relaxing stay. All rooms have a private bathroom, a free Wi- Fi connection and a terrace where you can relax admiring the surrounding nature.
The Relais Maison Fernanda offers its guests cooking classes where they can have the chance to cook the local dishes with the Chef Fernanda D'Esposito, inside the beautiful kitchen decorated with the Vietri tiles. Maison Fernanda is surrounded by a garden where you can pick the products to use them to prepare healthy and tasty dishes.
Maison Fernanda
Via Termine 14 – 80061 Massa Lubrense loc. Sant'Agata sui Due Golfi (NA) - Italy
Maison Fernanda
Bed and Breakfast
Via Termine 14 – 80061 Massa Lubrense loc. Sant'Agata sui Due Golfi (NA) - Italy
+39 081 533 00 71
+39 333 114 22 18
Contact
Maison Fernanda
* Campo Richiesto
|
Informativa Privacy
Our Suggests
Positano
Live unforgettable experiences among the main beauties of our land like the Sorrento Peninsula and Amalfi Coast with Amalfi Coast Epic Tour.
39 334 94 31 459
Positano
Typical restaurant in the heart of Positano, overlooking the sea, with views over the Spiaggia Grande and the Amalfi Coast.
+39 089 875 08 2
Sorrento
Leader company in the organization of tours and excursions in Sorrento and Amalfi Coast and other places, with English speaking drivers.
+39 335 1562364
Featured Accommodation

Sant'Agnello
4-star Hotel located in Sant'Agnello, a few steps from the center of Sorrento, with modern and elegant rooms, swimming pool and much more.
+39 081 010 82 38

Sorrento
Modern bed and breakfast located in the center of Sorrento, in an enchanting position overlooking the sea.
+39 081 192 43 480

Sorrento
Elegant resort with panoramic view in Sorrento. It is the ideal destinations to relax.
+39 081 877 37 55
Tours and Transfer

Sorrento
Private tours and excursions among the beauties of Sorrento, Pompeii, the Amalfi Coast and Naples
+39 081 532 34 80
+39 338 338 73 93
Sorrento
Tours and transfers to Pompeii, Sorrento, the Amalfi Coast, Naples with English speaking drivers and licensed guides from Campania Region
+39 081 5369869
+39 338 6597884

Piano di Sorrento
Escursioni e tour in Costiera Amalfitana e Penisola Sorrentina a bordo di veicoli Mercedes dotati di tutti i confort.
+1-800-299-1587
+393391711079