Maison Fernanda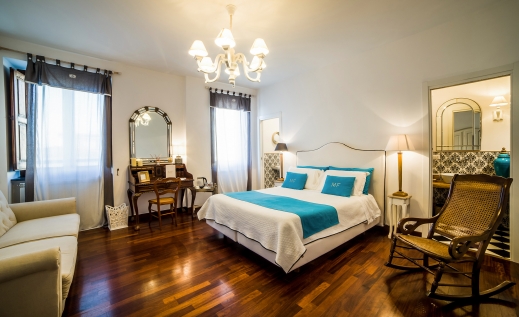 Maison Fernanda is a relais located in the wonderful village of Sant'Agata sui due Golfi, between the Sorrento and Amalfi coast. Maison Fernanda offers rooms with a unique sophisticated design and equipped with all services to make your stay extraordinary. Maison Fernanda provides its guests with a rich breakfast to be enjoyed in the garden or I your own room.
The relais has four rooms with cosy and refined interiors to give you a relaxing stay. All rooms have a private bathroom, a free Wi- Fi connection and a terrace where you can relax admiring the surrounding nature.
The Relais Maison Fernanda offers its guests cooking classes where they can have the chance to cook the local dishes with the Chef Fernanda D'Esposito, inside the beautiful kitchen decorated with the Vietri tiles. Maison Fernanda is surrounded by a garden where you can pick the products to use them to prepare healthy and tasty dishes.
Maison Fernanda
Via Termine 14 – 80061 Massa Lubrense loc. Sant'Agata sui Due Golfi (NA) - Italy
Maison Fernanda
Bed and Breakfast
Via Termine 14 – 80061 Massa Lubrense loc. Sant'Agata sui Due Golfi (NA) - Italy
+39 081 533 00 71
+39 333 114 22 18
Contact
Maison Fernanda
* Campo Richiesto
|
Informativa Privacy
Our Suggests

Positano
Carmine's Coast is a company that offers to its customers to discover the beauties of special places in Sorrento and Amalfi Coast.
+1-800-510-6130
+39 338 9966342

Positano
Franco Trekking Positano is an authorized guide who organize hikes, treks and food tasting trekking in Sorrento and Amalfi Coast
+39 366 337 93 52

Massa Lubrense
Da Michele is a restaurant and pizzeria located by the sea in Massa Lubrense that offers land and seafood specialties and traditional pizza
+39 081 8789871
+39 3388720672
Featured Accommodation

Sorrento
Modern and elegant hotel, surrounded by craft shops and typical shops, immersed in the colors and scents of the center of Sorrento.
+39 081 181 65 785

Sorrento
Diamond Suite is a refined guest house located in Sorrento city center, with luxury rooms, discounted Parking and breakfast tickets
+39 081 18 13 4523
+39 349 85 11 666
Capri
Cozy rooms in a typical Capri villa located in the center of the island, a few steps from the beach and the famous Piazzetta
+39 081 837 44 67
+39 328 323 35 44
Tours and Transfer

Sorrento
Lino Tours organizes tours and transfer services along the Sorrento Peninsula and in the places of interest in the region of Campania.
+39 081 8073587
+39 333 2649178
Sorrento
Guemar Travel is a company with a strong experience in the tourism industry. Organizes transfers and tours in all Campania region.
+39 334 166 30 44
Massa Lubrense
Authorized official guide of Pompeii ruins, Vesuvius, Naples and Amalfi Coast.
+39 339 6943784