Maison Fernanda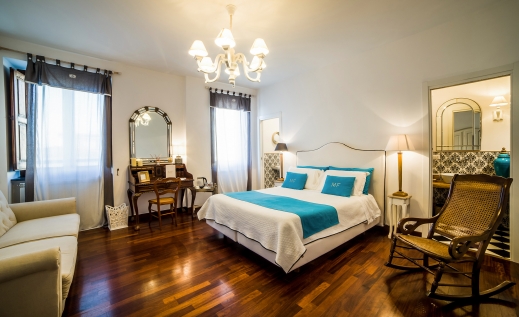 Maison Fernanda is a relais located in the wonderful village of Sant'Agata sui due Golfi, between the Sorrento and Amalfi coast. Maison Fernanda offers rooms with a unique sophisticated design and equipped with all services to make your stay extraordinary. Maison Fernanda provides its guests with a rich breakfast to be enjoyed in the garden or I your own room.
The relais has four rooms with cosy and refined interiors to give you a relaxing stay. All rooms have a private bathroom, a free Wi- Fi connection and a terrace where you can relax admiring the surrounding nature.
The Relais Maison Fernanda offers its guests cooking classes where they can have the chance to cook the local dishes with the Chef Fernanda D'Esposito, inside the beautiful kitchen decorated with the Vietri tiles. Maison Fernanda is surrounded by a garden where you can pick the products to use them to prepare healthy and tasty dishes.
Maison Fernanda
Via Termine 14 – 80061 Massa Lubrense loc. Sant'Agata sui Due Golfi (NA) - Italy
Maison Fernanda
Bed and Breakfast
Via Termine 14 – 80061 Massa Lubrense loc. Sant'Agata sui Due Golfi (NA) - Italy
+39 081 533 00 71
+39 333 114 22 18
Contact
Maison Fernanda
* Campo Richiesto
|
Informativa Privacy
Our Suggests
Vico Equense
Tours, guided tours and excursions on the Sorrento and Amalfi Coast. Private transfer and shuttle service from/to Naples Capodichino Airport
+39 081 8015420
Sorrento
Association of tourist guides authorized by the Campania region for transfer and tour to Sorrento, Pompeii, Capri, Positano, Naples and more
+39 081 878 30 61

Sorrento
A company for day tours, shore excursions and transfers throughout the Sorrento and Amalfi Coast area, with english speaking drivers.
+39 338 668 80 81
Featured Accommodation
Sorrento
For a relaxing holiday in Sorrento you choose the three-star comfort of Hotel Britannia
+39 081 878 27 06

Amalfi and Atrani
Company specialized in renting villas and apartments for holidays in Sorrento and Amalfi Coast.
+39 338 60 52 694

Sorrento
Aquae Romanae is a multi-structure bed&breakfast located in the two main squares of Sorrento. It offers breakfast and a luggage storage
+39 081 189 072 75
+39 348 529 3439
Tours and Transfer

Sorrento
Lino Tours organizes tours and transfer services along the Sorrento Peninsula and in the places of interest in the region of Campania.
+39 081 8073587
+39 333 2649178

Massa Lubrense
Italy limousine companies offers a real chauffeur service, all across this wonderful country
+39 081 808 0457
+39 338 96 81 866
Sorrento
Lentino Private Driver organizes transfers, tours and private excursions to discover the beauties of the Amalfi and Sorrento Coast.
+39 081 807 37 83
+39 333 29 32 506