Aquae Romanae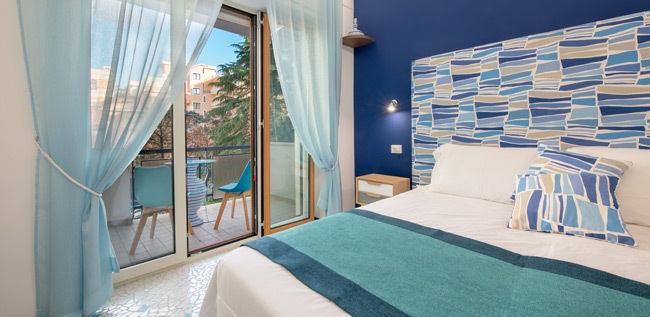 Aquae Romanae is a sophisticated multi-structure bed&breakfast located in the centre of Sorrento. It offers modern rooms with refined furnishings and equipped with all the necessary services to make your stay in the land of the sirens unique. Aquae Romanae also offers its guests a delicious breakfast to enjoy in the comfort of your room or your private terrace.
This b&b has 6 rooms, all with private bathrooms and large walk-in showers, allowing guests to spend a relaxing holiday. Aquae Romane also provides visitors with a convenient luggage storage service, free of charge and 100% safe.
The b&b, located in the two main squares of Sorrento (Tasso Square and Lauro Square), the b&b will allow you to quickly reach beaches, bars, restaurants, the port and the bus and train station, to easily visit all the tourist attractions of the Sorrento Peninsula and Amalfi Coast, the island of Capri, Ischia and Procida, the ancient Pompeii, Herculaneum and Vesuvius.
Aquae Romanae
Corso Italia, 211 80067 Sorrento NA
Aquae Romanae
Bed and Breakfast
Corso Italia, 211 80067 Sorrento NA
+39 081 189 072 75
+39 348 529 3439
Contact
Aquae Romanae
* Campo Richiesto
|
Informativa Privacy
Our Suggests

Capri
Anna's wool is a shop and e-commerce of handmade tailored products "made in Capri" in merino wool and cashmere like ponchos and stoles
+39 348 1184954

Sant'Agnello
Domus is a leader furniture upholstery company in Sorrento and Amalfi Coast.
+39 081 878 78 95
Sorrento
Alca Excursions offers transfers from and to ports, stations and airports and tours of Naples, Sorrento, Pompeii and the Amalfi Coast
+39 333 561 99 00
Featured Accommodation
Sorrento
Hotel Ascot, a Sorrento, is a familiar atmosphere hotel with good cuisine.
+39 081 878 30 32
Sorrento
Located in the heart of the town of Sorrento close to the sea, to transportation and shopping area.
+39 081 878 13 44

Sorrento
Modern and comfortable rooms and apartments located in the green hills of Sorrento just a few km from the main local tourist attractions
+39 338 68 09 990
Tours and Transfer

Sorrento
Choose to visit the ruins of Pompeii with Tempio Travel agency, a tour guide specialized and competent.
+39 081 8782103
+39 338 659 78 84

Sorrento
Excursions, transfers and tours for the cities of Italy to competitive costs indeed.
+39 338 597 26 76
Sorrento
Private transfer and tours to Sorrento, Amalfi Coast, Pompeii and Naples with a professional and expert english speaking driver.
+39 333 65 18 540