Aquae Romanae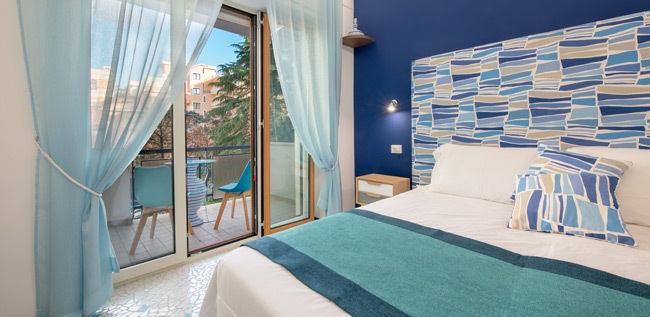 Aquae Romanae is a sophisticated multi-structure bed&breakfast located in the centre of Sorrento. It offers modern rooms with refined furnishings and equipped with all the necessary services to make your stay in the land of the sirens unique. Aquae Romanae also offers its guests a delicious breakfast to enjoy in the comfort of your room or your private terrace.
This b&b has 6 rooms, all with private bathrooms and large walk-in showers, allowing guests to spend a relaxing holiday. Aquae Romane also provides visitors with a convenient luggage storage service, free of charge and 100% safe.
The b&b, located in the two main squares of Sorrento (Tasso Square and Lauro Square), the b&b will allow you to quickly reach beaches, bars, restaurants, the port and the bus and train station, to easily visit all the tourist attractions of the Sorrento Peninsula and Amalfi Coast, the island of Capri, Ischia and Procida, the ancient Pompeii, Herculaneum and Vesuvius.
Aquae Romanae
Corso Italia, 211 80067 Sorrento NA
Aquae Romanae
Bed and Breakfast
Corso Italia, 211 80067 Sorrento NA
+39 081 189 072 75
+39 348 529 3439
Contact
Aquae Romanae
* Campo Richiesto
|
Informativa Privacy
Our Suggests

Sorrento
Modern restaurant in the center of Sorrento where tradition, quality, professionalism and innovation meet to offer a unique taste break.
+39 081 359 75 55
Sorrento
In one of the historic streets of Sorrento revises the culinary tradition of Campania region creativity and contemporary style.
+39 081 878 14 80
+39 333 36 81 871

Sorrento
Shop of corals jewelry and handmade accessories.
+39 081 807 18 80
Featured Accommodation

Sorrento
The Relais Correale offers an unforgettable stay in Sorrento, thanks to the favorable position and its citrus grove where you can relax
+39 081 807 32 65

Sorrento
Modern and elegant hotel, surrounded by craft shops and typical shops, immersed in the colors and scents of the center of Sorrento.
+39 081 181 65 785
Sorrento
Villa Adriana is located a few minutes walk from the historical center of Sorrento, from the main local attractions and restaurants.
+39 371 457 35 86
Tours and Transfer
Positano
Live unforgettable experiences among the main beauties of our land like the Sorrento Peninsula and Amalfi Coast with Amalfi Coast Epic Tour.
39 334 94 31 459

Sorrento
Tours among Campania Region tourist attractions. Transfers to/from ports, airports, hotels, stations in Naples, Positano, Rome, Florence
+39 333 734 8008

Piano di Sorrento
Escursioni e tour in Costiera Amalfitana e Penisola Sorrentina a bordo di veicoli Mercedes dotati di tutti i confort.
+1-800-299-1587
+393391711079