Pompeii
City of the province of Naples is one of the most famous archaeological sites in the world, but only visiting it you can catch the priceless historical and cultural value that characterizes it. Historical HighlightsThe city, a colony of the Roman Empire, was destroyed by the eruption of Vesuvius in 79 AD Completely submerged by ash and lapilli (little hot rocks), has been preserved largely i...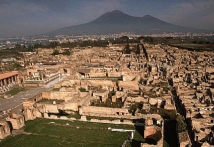 Herculaneum
City 20 km away from the most famous city of Pompeii, offers an archaeological site of great historical interest. Since 1997 is included in the list of World Heritage UNESCO . Historical BackgroundThe city was severely damaged by the earthquake of '62 and then buried by the eruption of Vesuvius in '79 with a layer of more than twenty meters of ash and lapilli.The ancient city of Herculaneum...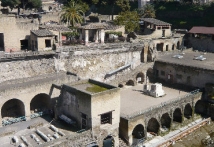 Paestum
To the south east of the Gulf of Salerno city, awaits one of the best preserved archaeological sites in Italy, Paestum, a city situated on the Tyrrhenian Sea between the main centers of ancient Greece. Given back partly to the daylight, is entirely UNESCO World Heritage Site. Historical BackgroundThe site has been inhabited since prehistoric times, some archaeological data seem to confirm th...
Bagni Regina Giovanna
AttractionsThe Domus of Pollio Felice had to be in the Bay of Puolo. The villa, - composed of buildings located on terraces degraded, are visible by the ruins, while the best-preserved remains are those of the villa or tanks, warehouses and natural docks with the nympheum.Rooms with a barrel vault, black and white mosaic floors, stucco decorations in relief are evidence of the ancient splendo...
Caserta Royal Palace
It is one of the most important monumental complexes of the Italian artistic heritage. Recognized in 1997 a World Heritage Site by UNESCO. Historical backgroundDesigned by the architect Luigi Vanvitelli in the eighteenth century by order of Charles III of Bourbon, décored with works of art of inestimable value. AttractionsThe royal palace is divided into several areas, the apartments, the ...
Oplonti
The archaeological excavations of Oplonti are a number of archaeological finds from the ancient city of Oplontis, buried by the eruption of Vesuvius in '79, as well as Pompeii and Herculaneum. For his historic asset value has been inserted in the list of World Heritage by UNESCO. Historical backgroundThe ancient Oplontis, was a suburban development in the nearby town of Pompeii. Boasted seve...